The perfect assistant for you.
Our 3-step OptimalFit™ process ensures we align the right virtual assistant to you every time. Our assistants are screened and vetted so you get the very best person assigned to support you. From interview and cultural fit to skills testing and background checks, we make sure your virtual assistant is up to the task of handling your tasks. My BTLR matches you with a real person dedicated to your tasks. Here's how we do it: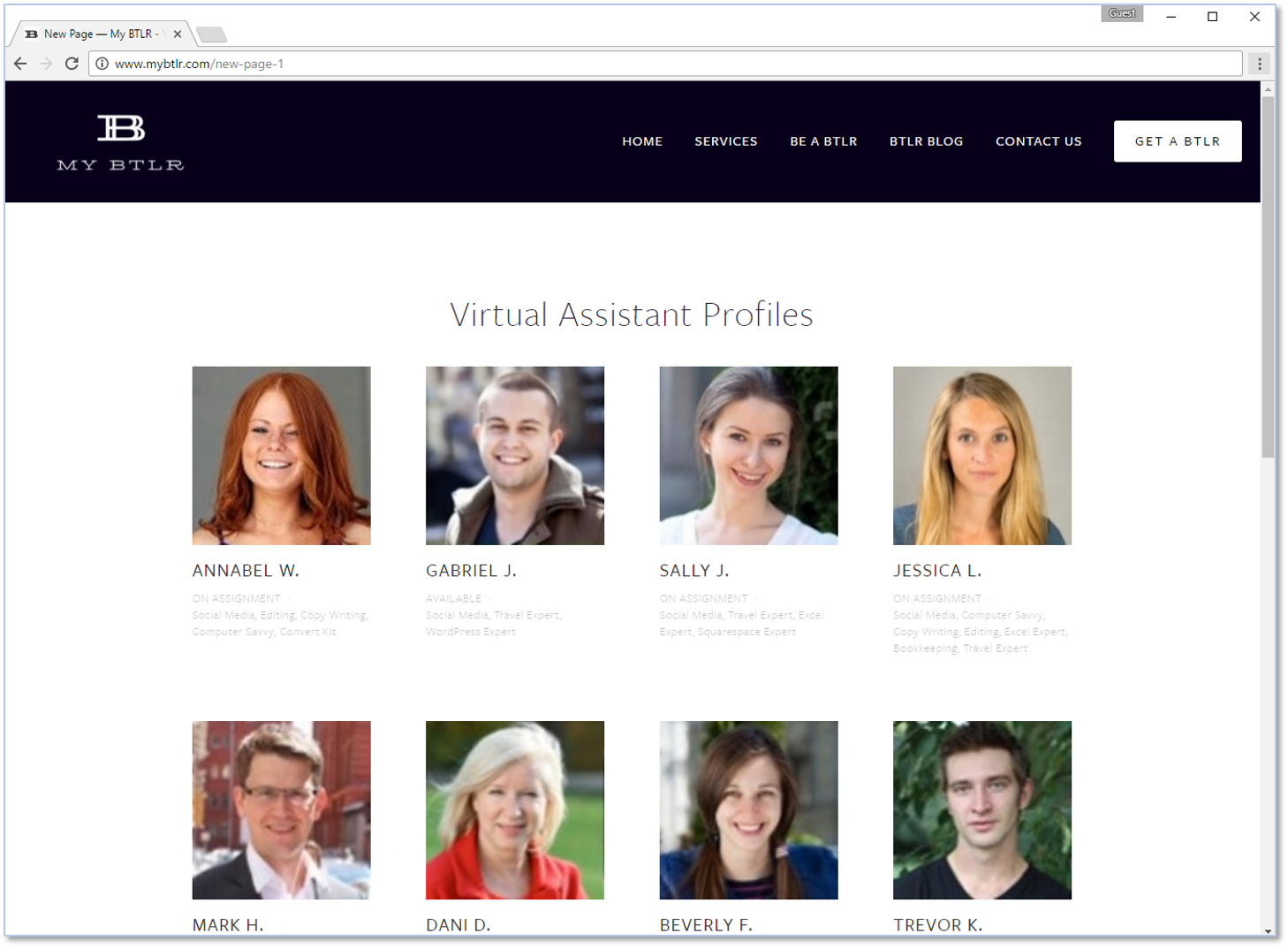 After our consultation with you, we search our database of top talent to identify candidates fitting your profile criteria.
STEP 2: Present Top Candidates
Once we've identified matches, we present you with the top options based on your needs.
Based on our consultation with you, we collectively select the best virtual assistant for you.
Real virtual assistants based in the USA.
In today's fast-moving world, artificial intelligence, chatbots, call centers and overseas resources seem to be commonplace. We don't believe this is the right approach to providing great personal service. We believe in People, Process and Technology ─ in that order. Our assistants are US based, real people, and don't sit in a call center where you talk to a different person each time you call.
A full-time solution on a part-time budget.
Our modern-day butlers put personal assistance within reach. Most of us don't need full-time help, that's why our flexible packages accommodate your lifestyle. Use as much or little as you need. Some days are busier than others and we're here to help ─ when you need it.
Because everyone is different, and has different needs, we don't simply use a one-size-fits-all approach. We carefully work to understand your needs and custom build a flexible plan that works for you. Our plans start as low as $299 per month.
So, how does this work?
What kind of tasks can My BTLR handle? We can handle almost any task we don't have to be in person to do. If it isn't illegal, immoral or unethical, we want to help!
How do I communicate with my assistant? We've designed our services for the path of least resistance for you. Communicate with your assistant by phone, email, video chat, or text message (the super-fast way to action your butler). Plus, our back-end integrated systems ensure speed, confidentiality and accountability.
How do I know my information is protected? Confidentiality and discreetness are our core values. Our virtual assistants go through a multi-step screening process – including a thorough, nationwide background check. Plus, our systems are centralized, secure and protected. Nothing is more important than your security.
What else can My BLTR do for me? Almost anything. Our assistants are resourceful, networked and highly experienced serving people. What's on your mind? We can help.
Getting your virtual assistant is as easy as 1-2-3.
Let us hear from you to start the conversation and schedule an in-depth consultation to understand your needs.
Get started today by calling us at 866-575-4559 or clicking the link below.